vCard Export Software: Reliable And Versatile
Features of vCard Import Export Software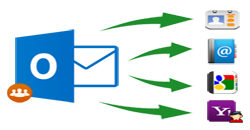 Multiple Export Options Available:
Export Outlook Contacts in different file formats that are well supported by multiple other applications.
Export as vCard: Stores multiple vCard Contacts in single VCF file & Create a single vCard for single Outlook contact.
Export as: Export Outlook contacts to Yahoo CSV, Google CSV & WAB
Note: This option only works if Outlook Express is installed on machine.)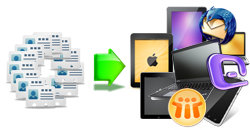 Batch Export from Outlook Contacts
The vCard Export from Outlook efficiently performs batch processing of PST contacts into various other formats. These given file formats are supported by multiple applications and devices.
Email Clients: vCard format is supported by MS Outlook, Entourage, Eudora, Yahoo Contacts, Google Contacts, Outlook Express, etc.
Devices: Tablets, Smart Phones, iPad, Laptops, etc.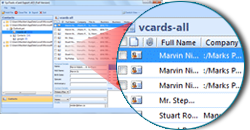 Generates Preview of All Contacts
The tool generates complete preview of Outlook Contacts with associated attributes such as Full Name, Middle Name, Last Name, Business Phone, Mobile Phone, Home Phone, Company Name, etc.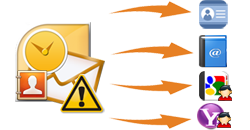 Export Contacts from Damage PST
The tool is capable of extracting all recoverable contacts from corrupt Outlook PST files including password- protected and orphaned PST files. The recovered contacts then can be exported to given file formats.
Exporting (n) number of vCard contacts from Outlook is a challenging task as it involves exporting them one by one manually. The task is quite boring and time consuming as well. However, the vCard Export tool not only made conversion of contacts to VCF possible but easier. vCard Export from Outlook is completed in just one click. Thanks to the tool for making it so simple and easier.

— William Anderson, Las Vegas
I was in the need to import Outlook Contacts to my existing Google account. First I thought of importing them one by one but when I started trying, I realized it's not an easy task. I took help of vCard Export tool that gives the option to export Outlook PST contacts to Google CSV. The CSV file then can be imported to Google profile. I was amazed to see that all the attributes remains unchanged.

—Samantha James, California
Useful Articles
Ways to Export Outlook Contacts to vCard Explored
Outlook Contacts: Outlook contacts refer to the list or records of people existing on Address Book or Windows contacts list. Though, Outlook contacts are saved as PST files but one can export Outlook contacts to vCard and other files such as MS Excel, CSV, etc as per requirements. Each contact in Outlook holds number of fields such as title, first name, middle name, last name, company name, address
Does the software capable of Extracting data from corrupt PST files?
Yes, the software is capable of recovering all healthy data from corrupt Outlook PST files. It can extract healthy data from password protected and orphan PST files as well.
What is the maximum Outlook PST file size supported by the software?
There is no file size limitation imposed on Outlook PST files. You can export contacts from even large PST files.
Does the tool maintain all the attributes of Outlook contacts after conversion?
Yes, the tool is designed to keep the Outlook PST contacts details and attributes intact even after conversion to other file formats.
What Outlook versions are supported by the tool?
The tool supports all versions of MS Outlook including Outlook 2013, and is well supported by Windows 8.1 along with all lower versions.
Watch Live Video of vCard Export