Ways to Export Outlook Contacts to vCard Explored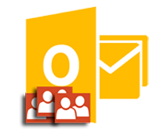 Outlook Contacts: Outlook contacts refer to the list or records of people existing on Address Book or Windows contacts list. Though, Outlook contacts are saved as PST files but one can export Outlook contacts to vCard and other files such as MS Excel, CSV, etc as per requirements. Each contact in Outlook holds number of fields such as title, first name, middle name, last name, company name, address and many more. The Outlook contacts can be exported to other email clients such as Outlook Express, Eudora and many more. But the possibilities are that the fields contained by the CSV files are not supported by all other email clients. So the easiest way to save contacts is vCard which is defined in the next section.

vCard: The most common way of saving Outlook PST contacts information is vCard. vCard is considered as electronic business card that can be used for sharing individual contact information over online sources. One vCard file holds contact information for one person from Outlook PST file and when multiple vCards are saved in a single file, it is known as VCF file. Saving Outlook contacts into vCard files holds several advantages that are mentioned in upcoming segment.
Need for Saving Contacts into vCard:
vCard is a single file format that contains individual personal information. The benefits of saving Outlook PST contacts to vCard include:
Easier sharing advantage, as single vCard can be attached into email for sharing over internet and directly shared as business card over phone devices.
Highly supported over multiple email clients and modern devices such as tablets and smart phones.
Easier to locate particular contact information when Outlook contacts are saved in vCard.
How to Export Outlook Contacts to vCard
To Export all Outlook PST Contacts to vCard, manual procedures can be followed such as:
Open Outlook; go to 'Contacts' and double click to open any particular contact
In pop up window, click on MS Office icon at upper left corner of the window.
From drop down menu, select 'Save As' >> click on 'Export to vCard File' option.


In 'Save As' window, enter appropriate name in the 'File Name' text bar.
In 'Save as type', make sure 'vCard Files' option is selected.


Drawbacks Associated With This Method:
The Outlook contacts will be saved as vCard files on system by manual procedure but the drawbacks related to this approach are:
Lengthy Procedure: One by one exporting Outlook Contacts to vCard is time consuming if you have large number of contacts to export.
Loss of Data: The manual procedure can leads to loss of information as it is possible that you may skip any contact while exporting them to vCard files.
However third party tool can be utilized to export Outlook contacts, no matter how large the PST contacts file is. The simple way of converting Outlook PST contacts to vCard and several other formats is discussed in the next section.
Export Outlook Contacts to vCard in Batch
To avoid the lengthy procedure and to make sure if all the contacts have been exported and there is no loss of data during the process, one can adopt easiest way of converting Outlook contacts to vCard i.e., vCard Export tool. The tool converts Outlook contacts to several other formats including single vCard, VCF (for multiple vCard), Yahoo CSV, Google CSV and WAB from ANSI (supported by Outlook 2002 and prior versions) as well as UNICODE type PST files (that are supported by Outlook 2003 and all later versions. The tool converts all existing contacts from default Outlook profile to given formats in batch. It makes PST contacts accessible over multiple email clients as well as the contacts then can be imported to Yahoo and Google contacts list.