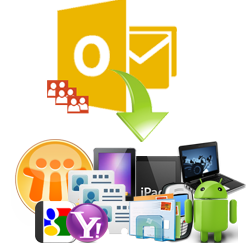 Convert Outlook Contacts to vCard with a Reliable PST Contact to VCF Tool
Convert Outlook Contacts to vCard file format to enhance its accessibility with our organization developed vCard Export application swiftly. This named application is one of the finest software among its types as it will help users to convert entire contact database without harming any detail of the contact. With our tool users can not only convert Outlook contacts to vCard file format, they can convert outlook PST format into WAB and CSV file format also. Users can enjoy all the peculiarities of the software by just purchasing it at pocket affordable prices.

There are many clients which accept the vCard such as Lotus Notes, Outlook Express and MS Outlook also. Once users convert the contacts into vCard format they can use them with the many mobile devices also including BlackBerry, PALM and iPhone, etc.

Why Choose vCard Over Outlook
Once users convert Outlook contacts to vCard they can be benefitted with the following:
vCard is helpful to exchange contact information between varieties of devices.
Users can attach numbers of vCard with th e emails and share information over network swiftly as the size of vCard is typically small.
When vCard is received as a part of email, then users can add contact info to the address book with very little effort.
Consider A Situation- Need To Export PST Contacts To VCF
There are number of people who are using Outlook PST file format to save their contacts. But it is quiet difficult to fill web forms with the Outlook PST file format quickly. Then what will you do to if you have to fill thousand web forms?
Instead of filling a single form at time, users can quickly fill them by converting them into vCard file format. Once users convert Outlook contacts into vCard file format then they can fill the entire web forms by just dragging the vCard. And users can convert Outlook contacts to vCard accurately and swiftly with the above recommended application safely and quickly.