Import vCard To Outlook Application – A Diligent Way Of Data Transfer
With the import vCard to Outlook program you can avail the privilege of transferring the VCF format contacts from any platform or device to Outlook PST address book successfully. The vCard Importer program has been designed in a successful solution offering manner. Technical algorithms that are required for the intact and accurate conversion of VCF contacts have been instilled in the tool successfully. Meanwhile, assuring the dependability of the application is absolutely easy as it comes in a free of cost trial version which can be downloaded without any hassles to view the demonstration of the tool.
Batch Import vCard To Outlook 2007 Or Any Other Version
The best property of the application is that it helps to import vCard contacts in batch quantity to a configured or even an orphan PST mailbox successfully without failure. The application has been designed in such a technically sound manner that it offers convenient option of contacts conversion to users.
Working With vCard Importer On Windows
Working with our esteemed application to execute vCard import to Outlook on Windows operating system is absolutely an eased process. The software offers support to all versions of Windows operating system successfully so that you don't have to bother which version you are operating but simply import vCard to Outlook quickly. In fact, all versions of Microsoft Office Outlook are well supported up to 2010 of 32 and 64 bit so that you don't have to face inconvenience in the process to import vCard contacts to Outlook PST (configured or orphan).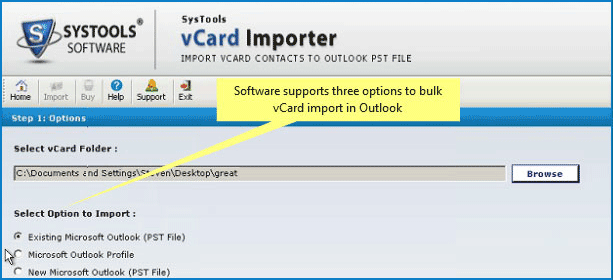 The vCard import solution is designed to offer users of technical end as well as novice groups operate it with sheer ease and understanding. Meanwhile, the required technicalities to import bulk vCard to Outlook are also not compromised by the application to import vCard to Outlook.